Impact Bag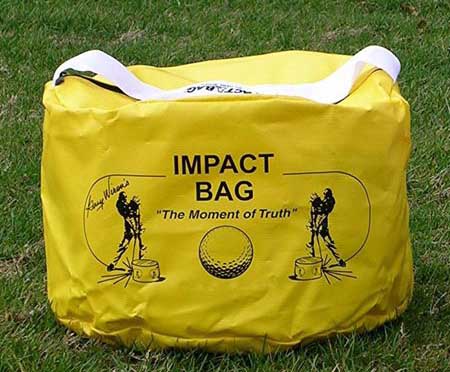 Every player attempts to get the club on line & square at impact. A breakdown of the left wrist and collapse of the leading arm at that moment are two of the most common problems faced by players of all skill levels. Impact Bag® is one of the most popular training aids of all time for the following reason - there is only one moment of truth in the golf swing - Impact! This device teaches the correct position and feel at that moment.
Unlike hitting a car tire or other hard object the Impact Bag® is safe and has been designed specifically for golfers. Developing a strong left side while turning into the ball will help eliminate many of the inconsistencies brought on by left wrist collapse & will help bring you into a solid, assertive impact. The Impact Bag® also comes with a special slice cure supplement, guaranteed to cure your slice in 60 seconds.
Putting Alignment Mirror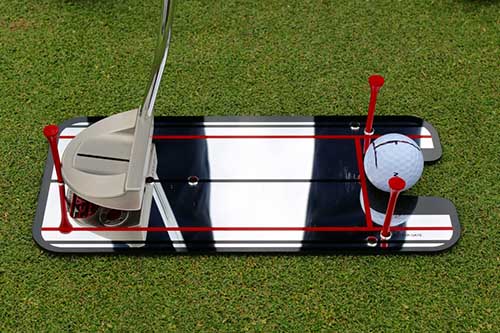 The Putting Alignment Mirror is the perfect way to get ready to play. Toss it down, line it up, check your setup lines, and build confidence. Check your putter face alignment, eye position and throw it back in your bag. It has putter gate slots to assure sweet-spot contact. Head to the 1st tee hunting for birdies.
Perfect Practice Putting Mat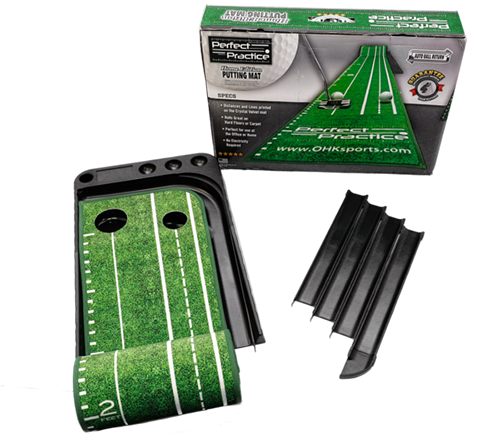 Features include a Crystal Velvet mat that simulates actual green-speed with an automatic ball return so the ball feeds right back to you. Two difficulty levels; master the small hole to make the regulation one seem easy. Printed white tracks guide your stroke path. Printed measurement markings at 2, 4, 6, and 8 feet. This is the best mat we've ever tested.
SWINGYDE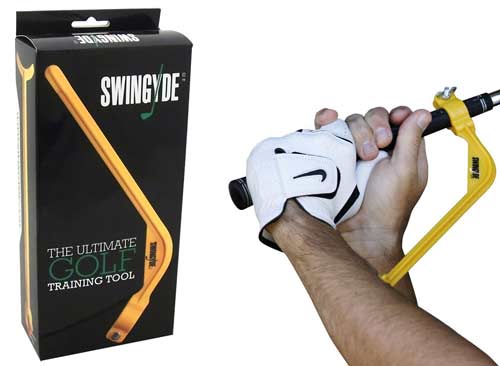 Swingyde is a lightweight golf training aid designed to create the correct golf swing positions.  Swingyde can be used whilst hitting balls at practice.  Swingyde sets the correct hinge position at the top of your backswing.  Swingyde also corrects face alignment throughout your golf swing, which leads to greater distance, better accuracy and most importantly lower scores!
SIC (Seriously Ice Cold) Cups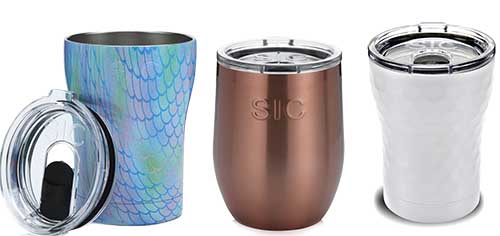 Double wall stainless steel vacuum insulated for extreme temperature retention.  24+ hours ice cold, and 12+ hours piping hot.  The insulation technology guarantees a sweat free drinking experience.  The design is not only beautiful but also very functional to fit perfectly in your hand.  Comes in a variety of shapes and sizes and can be custom imprinted with your logo.
Voice Caddie and Swing Caddie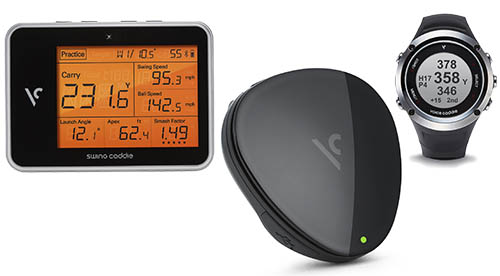 The latest renditions of the popular VC line of voice output GPS rangefinders.  The new model incorporates Voice Caddies simple and hands free operation.  The G2 Hybrid watch is a complete golf GPS watch with advanced technological features including automatic slope calculation.  Stay on the cutting edge with these electronic tools!